Mykonos
is an island located on the south side of Greece. It's even southern to Athens which is the capital of Greece. It is, without doubt, one of the most beautiful islands in Greece, and also the one that is the most common tourist attraction. It is one of the many islands there called the Cyclades but among them, all Mykonos is certainly one of the most famous.
The total area of the island is 86,12 square kilometers, and on that same small space, there are two highest points that are almost 400 meters above the sea. One of them is Prophet Elias Vorniotis and the other is Prophet Elias Anomeritis.
The population of Mykonos is 10134 people by the last count from 2011. Those are people who are on the island all year round.
Even though it is not that big, it has a soul that touches everyone that wants to have a holiday here. Tourists that come here to have a great time and even greater nights will find many things that they will remember for the rest of their lives.
In Greek mythology, Mykonos got its name from its first ruler who was the son of the grandson of God named Apollo. Apollo was the great hero in Greek mythology of his archery but also the music and dancing and Sun and light.
Mykonos is a top Greek destination, where all the fun happens!
What do holidays in Mykonos mean? Luxurious Mykonos hotels, award-winning restaurants, cosmopolitan vibes, a crazy party scene, amazing Mykonos beaches…We could go on forever! Greece holidays experience goes to another level in this popular gay-friendly destination!
Famous for its minimal Cycladic architecture, Mykonos is full of traditional whitewashed houses and blue-domed churches. The trademark of the island, though, is the beautiful traditional windmills in front of Little Venice, where you can also enjoy the magical sunset and capture the colorful light washing up the island's Chora ( main town ). Pure bliss!
Located in the center of the Cyclades island group, Mykonos is one of the most famous Greek islands for its cosmopolitan atmosphere and vivid nightlife! No wonder why it's widely known as the "Ibiza of Greece"!
Mykonos holiday is an experience of a lifetime and there's a whole heap of amazing things to do in Mykonos. Marvel the amazing sunset from Little Venice Mykonos, stroll around the narrow paved streets of Chora, enjoy your stay at the luxurious Mykonos hotels, dance the day away at epic beach parties, and swim at the exotic Mykonos beaches. When the sun goes down, join the nightlife scene of the island and party all night long at the legendary Mykonos clubs!
What's more, Mykonos is the most popular gay-friendly destination in Greece. The island welcomes every year many LGBTQ tourists, who choose Mykonos for their holidays!
Chora, the main town of Mykonos, is where the heart of the island beats! Awarded Mykonos restaurants, designer boutiques, elegant bars, and top clubs, guarantee an unforgettable Greece holiday experience!
And what can we say about Mykonos beaches? They are simply unique! With emerald, azure, or deep blue waters, pebbly or sandy, the island has epic beaches for every taste! To name a few, Super Paradise, Paradise, Platis Gialos, and Lia are some of the Best Mykonos beaches. The best part? You can enjoy lots of water sports activities, such as windsurfing and kitesurfing.
As for the things to do in Mykonos, the options vary! Visit the historical Delos island, do island hopping from Mykonos to Santorini, try water sports, do Mykonos tours, and many more! Mykonos' holiday experience will definitely be one to remember!
Best Beaches in Mykonos
Mykonos is one of the most visited Islands in Greece and for a good reason, too. Mykonos belongs to the Cyclades group of islands in the Aegean Sea. It is the most popular in the summer because there are many parties every night you spent there. Young people and those who feel young are very welcome here and every summer you can find a lot of people there. The whole island becomes a big celebration of life and party from late March to the middle of September.
Mykonos is a small place its long 15 km and wide 10 km and everyone gets along there. Even in the case where you want some peace and quiet, you will still find your place on this island.
If you want loud music and the world's best DJs for sure you will find them during the summer. But still, the best place to spend here if you are awake during the day are beaches and turquoise blue water everywhere you look.
Lia Beach
Located about 14 km from the Town of Mykonos this is the beach where you can be sure that no one will disturb you while you are there. Every person has a sun lounger with a lot of parasols for those who don't like the sun that much or have sensitive skin and needs to be under the shade.
This is a private beach and only the guests can swim and by the sight, this is one of the clearest waters, where guests of the hotel can rent scuba diving equipment and see a great saved underwater world with various corals and fishes of all kinds of colors. This is one of those beaches where you can rely on seclusion even dough you are surrounded by other beaches. Here you will be safe from loud music during the day and from an overcrowded beach. There are no hotels here just endless blue water and blue sky above.
Super Paradise Beach Mykonos
This is one of the beaches that are in the bay area so here you can enjoy quiet waters without many sea waves. It is about 7 km from the Center Town Of Mykonos and the sandy beach is on the southeastern part of the island. At one of the ends of the beach, there is a Super Paradise Beach Club with a hookah place. There is also a self-serving bar where you can drink and eat during the day as well as during the night.
If you came here looking for partying this is the best beach for you. Secluded by being behind the bay and big rocks here is the place to have fun all night, and sometimes after dawn and late into the next day. Some of the most wanted DJs in the world have their parties here all summer long and not just during the weekend.
Jackie O'Beach Club is on the other end of the beach and here you can find a fine dining restaurant at the end of the evening, there are held drag queen shows. No city transport goes to this beach only Mykonos Water Taxi can take you there, otherwise, you'll have to get there on foot.
Agrari Beach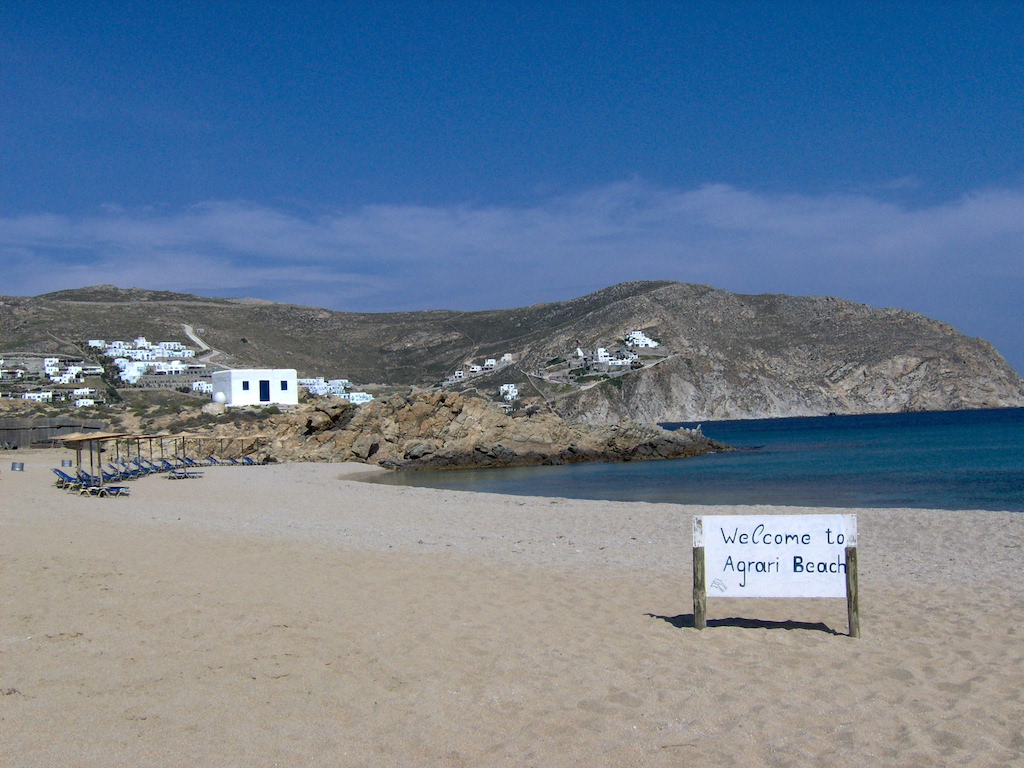 Agrari beach is full of sand and has bed rentals that you don't have to use during the day or night. It has a pretty decent restaurant, but here you will find mostly sand. For some people, this is what they are looking for. For this beach, you don't need any money to be more than welcome to be here on your towel and stay all day in the sun to get a bronze tan. Earlier mentioned Mykonos Water Taxi goes by this place but this beach is usually empty.
So, if you want to read a book in peace, this is the beach for you. It is 10 km from Town Center and you can get here by car you will find more than enough parking spaces where you can look at your car the whole day or time you spend here. At this beach, you can find usually families and people that got here alone, or some of those who partied too much and now looking for some quiet time that lasts the whole day.
As well as it's quiet during the day, during the night this is one of the more important party places. The restaurant is shaded by several trees and it is great to cool down from the sun. But, when the night comes, this beach becomes one large party place and many people love dancing here long into the night.
Fokos Beach
Fokos Beach is popular for its free beach without taverns at the ends and being in lagune there is sand everywhere and beautiful clear water in front of you. There are no hotels there so the beach is open for everyone that wants to come here. Here is no end to the beach on each side, no pressure to take a sunbed, and it's pretty quiet. Here you won't find parties during the night or day, just sand and beautiful clear water in front of you.
The Northeast of Mykonos is more popular for those people who don't like people, loud music, DJs, and restaurants and taverns which will disturb the quiet on this beach. Being away from the Town of Mykonos 13 km you will have to find your transport to this beach because even the taxi doesn't go here, there are no busses or any other kind except your car, or if you are near here you can walk to this beach but it will be worth the travel to the beach.
A bit further is Fokos Tavern with food that is homegrown, or fished fresh out of water. There is no loud music, just a little old place so you don't need a car to get to the food that's always fresh and safe to eat. Here you won't hear loud noises, people with sunbeds, no sun umbrellas, no taverns, and it's secluded being in a bay. There is only fine sand, blue waters, and blue sky. There's not even one tree to make the shade, just fine sand and raw nature.
Paradise Beach
Paradise Beach is one of the best beaches in Mykonos. Paradise beach is too popular to even say something about the beach but here are the most important things you should know if you want to spend your day at sea here. One of the most important things you should know is that if you want to read a book or take a few minutes of quiet time this beach is definitely not the place for you.
This beach is 6 km away from the Town of Mykonos, but there is a hotel near the sea, and it's 600 meters away from the sea. There are two clubs on each side of the beach and Tropicana Beach Club is one of them. When the day is getting over, there starts loud music and a lot of people expect a great time. And that is certain when it comes to this beach.
From the afternoon to dawn and sometimes to the early hours the next day there are parties every single night during the summer. The most famous DJs come here and play music during the night, and sometimes there are festivals when all of the masters of mixed music come here to make a great atmosphere. The other club on the other side of the beach is Paradise Beach Club which offers slightly different music also loud and here all the people have a lot of fun for those who came to Mykonos to celebrate life. If you are in this group, this is the beach just for you.
Megali Ammos Beach
This is the nearest beach to the Town of Mykonos only 500 meters from the sea. Also, it is that far from the Center of Mykonos. Being that close to the water and the city at the same time, prices are that much higher than in the other parts of the town. Beautiful and pretty windy from time to time, but still one of the other pretty beaches on this island.
On the right side of the beach, there is a small tavern that also serves food grown on the island and those groceries that they don't grow on the island, they get from the mainland, but every ingredient on your plate is from Greece. Being quiet like most of this side of the island tavern named Joanna's Nikos is a great place to dine at any time of the day, during the whole season.
Beach is made of fine sand, like most of the others on the island, and the water is unusually clear, but with wind on its side, you can have a great time here, and peace on this beach. Someone would say that this beach will be full of people, but there is a place for everyone who comes here and a lot of great beaches to be almost alone in this one. Music is not that loud during the day so if you even can hear it, you will hear the sounds of waves much louder.
Agios Ioannis Beach
Agios Ioannis beach is one of the smaller beaches on the island. It is narrow and surrounded by big rocks that keep the separating line. If you want a change of scenery this is a great place for you. It's on the quiet side of the island and although it's a small beach you still can find a place for your towel. Some of the big rocks on each side of the beach can be a flat place for you not to have sand all over you when you get done swimming or scuba diving.
Except for the rocks around the beach, there are a lot of big stones in the water, and sunbeds are more than pricy, but that is because it is close to the Center of Mykonos. This beach is not for families with small children, because of the rocky wasters, where the kids can get hurt if they are not great swimmers.
This beach has a lifeguard that will watch for all swimmers or those who need any kind of help. Because it is not that full it's not included in general tours, so there are not that many people that can find this beach. Also, this beach has a pier for boats and they have a tour for sailing on board cruising around the island, and visiting other islands if you want a new experience.
Elia Beach Mykonos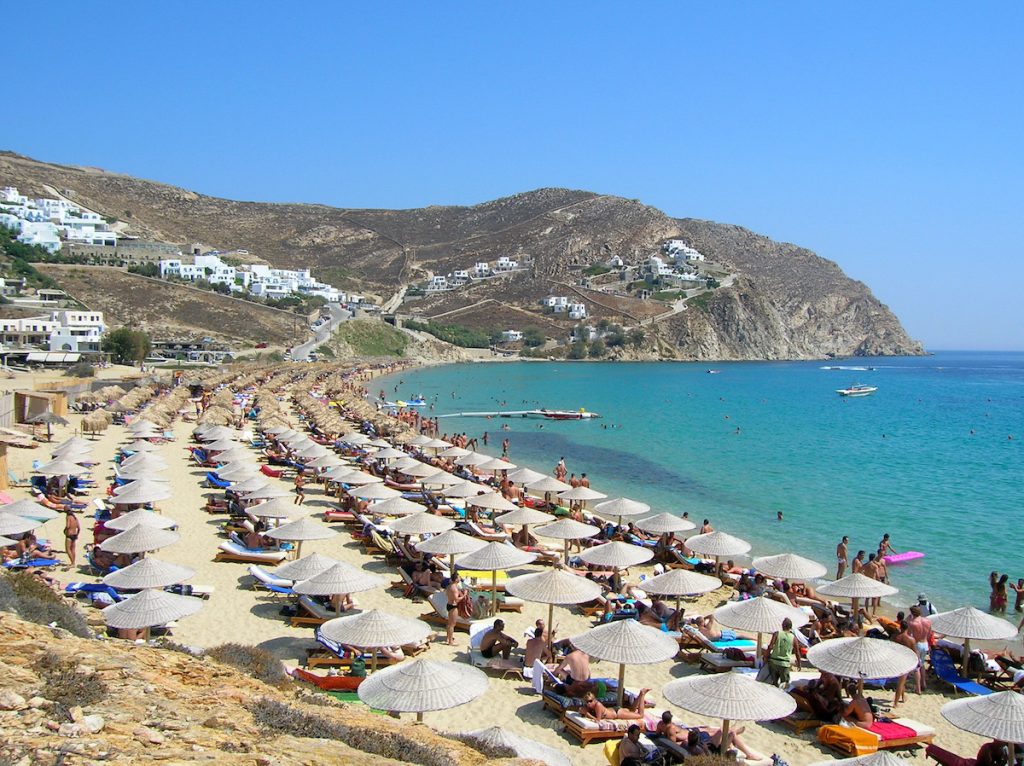 Elia Beach beach is special for many reasons. This is the longest beach on the island and has the smallest number of trading on the beach. So if you want peace on the beach you can be on the one side of the beach, and if you want to be among the people, you can choose the other end of this beach.
Also, this is one of the most famous beaches on the island. It is far from the Town of Mykonos about 11 km, but here, unlike some of the other beaches, this one has great transport to get to this beach. Being in the bay area like some of the beaches on Mykonos and it can get quite windy, so the waves are bigger than on the other beaches. But it is a warm wind and it could trick you that the sun is not that hot, but be safe if you don't want to get burned from the sun and this usually happens the first day on the beach.
If you are staying in the middle of the town people has the option of busses that goes straight to the beach. For now, there are two bus lines which will get you there.
There is one main restaurant in the middle of the beach and several other, smaller taverns where you can have a great meal as well as the food to go. This beach has a lot of coves that can be explored but this is for the adults because in some coves clothing is optional, so don't be surprised if you see some naked people in the coves.
Reasons why your choice should be Mykonos
Here are some of the beaches on Mykonos Island. There are many more beaches there that you can explore. If you love walking instead of just laying on the sand, you have 85 square km to explore. One day you can choose to see the town, and the other day to walk through most of the beaches on the island.
The prices are higher than in the other cities and on the mainland but here you can enjoy all kinds of parties and have fun that will remain in your memories for the rest of your life.
One part of the island is full of party people, and the other side is for families, and for the sake of your children take a good look at where to go if you don't want to end up on a beach where everyone is partly or fully naked. But besides that, this is is a great place to spend your holiday with someone or if you are alone, when you get there it will be easy to get more than one friend.
Weather in Mykonos over the year
For people who like warm weather, and high temperatures during the whole year this is the perfect living place. The only thing that may spoil these warm days are winds that blow every single day, almost every day during the whole year. The low temperature during the winter times can go below 11°C in the January morning and about 14°C to 15°C during the day.
Those temperatures may wary in late March or the beginning of April when temperatures go up. But in the middle of the summer in July or August, temperatures rarely go higher than 28°C to 29°C and nights are about 22°C to 24°C, but with the light breeze, you won't feel a thing. That may be the case that this place is perfect for living.
The temperature of the sea is almost always warm, but not too warm. It keeps between 14°C when it's colder, and even in late September water is about 20°C, and it's still warm to have some Sun and fun without rain or bad weather.
The chances of a windy day are increasing but this is due to the summer onshore breeze that cools the island in the hottest months. From this wind that is almost always 100%, the island got the nickname "The Island of the Winds".
What's the weather like in Mykonos in April?
It is well into spring in April with the days getting longer and warmer and rainfall still decreasing from the high precipitation experienced in winter.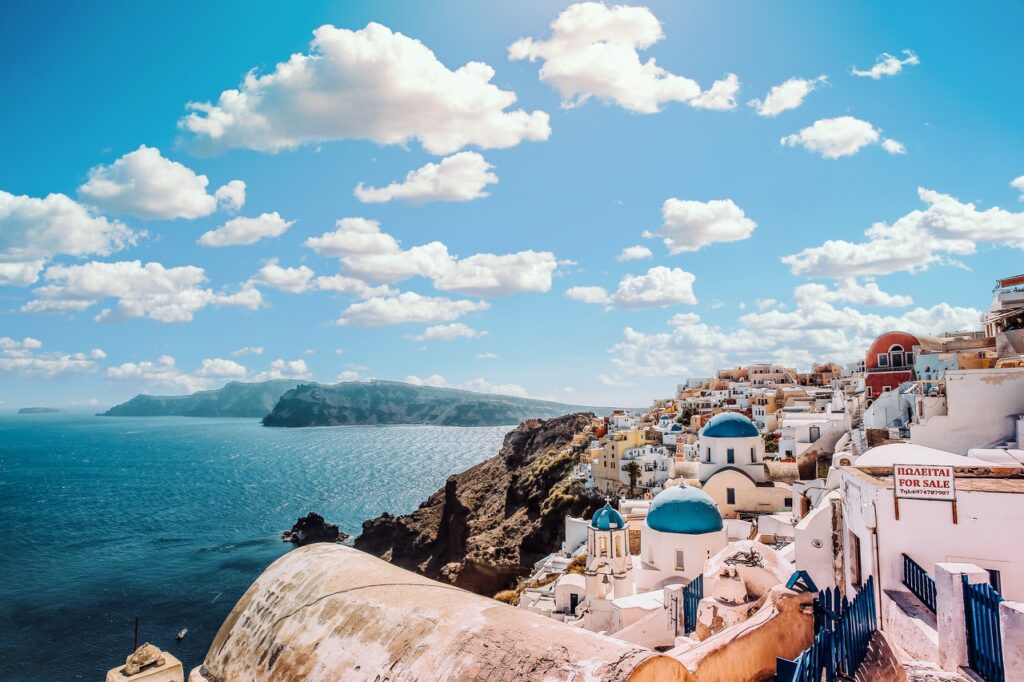 Temperature
Average temperatures hover in the mid-teens at 15°C and the average high/low temperatures are a low of 11° and a high of 18°C. Days are getting warmer as spring moves into summer and the beach becomes a place to visit for water activities.
Rainfall
Average rainfall has decreased again to a low of 58 mm falling over just 5 days. The wet days of winter have been left behind for the drier days of spring. During summer the rainfall drops again to just 10 to 20 mm. The chance of seeing a rainy day is low at 13% and the chance of a cloudy or overcast day has dropped to 24%.
Sunshine Hours
Sunshine hours have increased to 10 hours a day towards the summer high of over 12 hours a day. Now, the summer is the time of year to explore the island the beaches, and outdoor activities.
Sea Temperature
Sea temperatures are slowly increasing hovering at 16°C as in March and by the end of the month will be heading towards the summer high of 24°C. Still quite cold for swimming but is alright for other water activities.
FOOD AND THE BEST PLACES TO EAT ON MYKONOS
One of their delicatessens is the Kopanisti cheese. It is salty and spicy cheese made only in this part of the world. Mykonos has the best cheese of them all, but it's made only there and on the few islands around. Lountza is dried or smoked tenderloin served as a cold pre-dish.
Omelet is another way for Greeks to wish you a good morning because they make it in a special way. This omelet is made by beating eggs in a separate bowl and once they warm up the butter or olive oil they put the eggs in the pan and they don't stir it any longer. They add ceasing salt, pepper, dried meat, mushrooms, ham, bacon, cheese…almost everything you may want you can get in this omelet. Once it settles it can be folded or rolled as a pancake. Perfect start of the perfect day.
They are also known for the great sweet delicates like Amygdalota, and Lazarakia ( little sweet bread that is connected with Orthodox Christian holidays ), Melopita which is a pie with honey, and their cheese called 'tirovolia', and of course famous baklava made from dried grapes, ground walnuts, pie crusts and a lot of sugared water.
Mykonos certainly is the place for those who have deeper pockets, but like everywhere, every guest will find something that is good both for the stomach and affordable for the pockets. On their menus, you can find food like fine beluga caviar, but also salads mixed with fresh vegetables with or without meat at very affordable prices.
Tuya
This is the restaurant for deeper pockets, but here everyone will find everything there is to eat especially the local cuisine. In a fine setting, you can start your meal with octopus or maybe fresh oysters. It seems that most of their more popular dishes have pasta in them so for the main course you can have any kind of pasta, gnocchi is their trademark and it also can be made with or without meat. You can then choose from seafood or maybe vegetarian gnocchi.
Then there are special offers like truffles on to tagliolini or maybe grilled cod that may you want more.
There is also chicken marinated with lemon, short beef ribs, lamb cutlets, and of course, rib eye steak.
There are also various salads, and menus for just two persons, from the usual french fries to the grilled cauliflower. Deserts are not the main thing here on the menu, but all they have will share with you for example the birthday cake, ice cream, sorbet, and a few others.
The main thing that separates this place from others is its signature cocktails. They made it fun for those who came to have fun, but also for the people who will have to drive at the end of the evening.
With parole 'Honey, I'm driving tonight' they will make and decorate cocktails with no alcohol like 'Mosquito' or 'Strawberry kiss' but there are also many cocktails for those who can let themselves loose a bit. Those are their ' Duck'n'roses ', 'Kung fu panda', 'El flamingo', 'Pear to pear', and many others that will make you speechless.
Krama
Krama is a Greek word that signifies the harmonious marriage of parts that create a concordant ensemble. They would describe themselves as an excellent combining of various foods with harmony and balance in every bite.
This is one of those places that not only have fresh ingredients but also they make all their food by preparing it with just the local products. In any case, you would be more than happy to have your meal here so enjoy the short preview of their menu.
Like not many others they have a six-course meal and they will serve you a small but surprisingly great meal that will put your taste buds in a serious challenge.
They could start off with classic Greek salad, but nothing is written in stone. Renia garden dish will offer you refreshing summer green salads mixed with Mykonian tirovolia cheese with grapes and white beans. There are other options for starters, but considering this peak, it should tingle your imagination. Red beet is often seen here in some cases even as a main dish.
Then on the menu are dishes from the sea like sea brass carpaccio, sea bream with coriander, Greek crab with avocado cream, and brioche cheese, grilled squid with fish roe, then there are sea bream fillets with eggplant and carrots. The menu goes on with plates of pasta with sweet wine and cheese and also kakavia sauce which is made like local soup.
For those who like more traditional food without seafood, there are many dishes. Their signature dish is 12-hour lamb cutlets made with celeriac puree and couscous, then there is tartar beef with potatoes, tomato juice with oriental spices. There are also chicken fillets made with dates and cereal ragout, pomegranate, and carrot cream.
Veal cheek with carrot cream and onion bits is also the specialty of this restaurant as also beef fillets with grilled asparagus with olives and "Florina" peppers and truffles. There is also pork with plums and other 5 different kinds of steaks that will satisfy even the sharpest taste buds.
For those with a sweet tooth, they made Mykonos baklava, sour cherry with bitter almonds, and Madagaskar ice cream. A chocolate sphere with hazelnut cream inside with Jivara milk is the 'Chocolate Dream'. Lemon tart is for those who like sour lemon mixed with fresh mint.
And through all night you will have a large choice of beverages from which you can choose.
Nice N Easy
This one is a purely organic seafood restaurant that's on the shores of the beaches of Mykonos. They are proud that every slice of food that customers will get on the plate will be all organic, and mostly grown, made, and fished just for the pleasure of good taste.
Unlike the others, they serve even breakfast which is not too common on the island. From the lighter morning meals with oats, and gluten-free granola bites with berry fruit, to the cannabis seeds, to the pancakes with maple syrup, strawberries, and goji berries that go with or without ice cream. There is always the usual version of the 'common breakfast' which includes an omelet, poached eggs, eggs benedict, and organic muesli.
Except for the organic products from which they made all of their meals, there are some rarities like gluten-free bread which is served with dips and olives. So there is something for everyone at this place.
Breakfast is served all until 14h so you can get up at any time and still get a fresh and organic breakfast. Tzatziki salad is made a bit differently than most people are used to because it is made with sheep yogurt but with cucumbers, dill, and olive oil. Hummus is also one of the foods that are also organic and not on every standard menu.
There are a few more things that are on this menu and also are gluten-free, and those are Aegean yellowfin tuna served raw with lime, wasabi, and truffle oil. Also, gluten-free is the Fresh salmon tartar made with lime, hijiki, ginger, avocado mousse, chilly, and cucumber sorbet.
For appetizers, there is calamari, and grilled octopus, but there are also some things that are usually not on the menus like wild mushrooms, gruyere cheese on flame, or fresh mussels in white wine and feta cheese. There are fresh green spring rolls made out of spinach with chard, mint, leek, scallion, parsley, and feta sauce.
Before the main courses mention some of the salads that are made here because they are organic. There is a traditional Greek Village Salad made of carob rusk, Cretan cherry tomatoes, feta cheese, apricot confit, and capers, and for vegans, it's the same but without feta cheese.
Power Bowl is also interesting for salad and it includes three-color quinoa, and beluga lentils, mixed with sweet potatoes, cherry tomatoes, cashews, avocado, and pomegranate, and for the dressing is the orange mixed with mustard. There are also a few kinds of pasta, with fresh lobster, one is seafood pasta, Myconean chicken spaghetti, and Cavatelli-style pasta with baby spinach, herbs, feta, and parmesan cream.
On the main dish, the menu is some combinations with even more crazy names like 'The Pamela Anderson' which contains turkey patties with oats, bio rice with herbs, grilled vegetables, and mustard seed sauce. Greek Chicken Kontosouvli, Black Angus Beef Tagliata, and Black Angus Rib Eye Steak are just some of the names that will fill your stomach as well as the eyes and your soul.
The fresh thing on this menu is ' The Catch Of The Day ' which means that the fish you are going to get was caught that same night or that morning. The most common dishes are grouper, dentex, red snapper, sea bream, sea bass, bream, etc… Only thing that is not caught the same night is the fresh lobsters that live in the aquarium. Also, there is a 'Fresh Seafood Mix For Two' that includes half of one lobster, octopus, squid, and bream…
Also, this restaurant is served traditional main meals like Greek Mousaka, and for vegans, there is a Vegan Mousaka, Greek Pastitsio, Traditional Greek Meatballs, Our Own Gyros, Vegan Gyros, with mushrooms instead of meat, and with tomato, onion, bread pita, and french fries…
In the end, there are delicious sweets from Greece and many other sweets that are widely known around the world like Banoffee, Traditional Orange Pie, Chocolate Mousse, Fresh Seasonal Fruit Cup, and Fruit Yogurt With Honey.
Eva's Garden
This restaurant is often glorified as a place with great history, and beautiful family values and it's been in the family for the last 40 years. Except for the great service and smiles that are on these people's faces will challenge every stay there and struggle not to visit them again.
They are proud of themselves as people who are making friends with total strangers, making them visit again and again. Every time before dining guests do not have to think too much about where they will end up because Eva's Garden is such an obvious place.
They separate their restaurant into four separate places and those are Hidden Garden, Near The Street, Dining Room, and the Verandah. Hidden Garden is covered with great wine leaves along with flowers and a pretty intimate atmosphere. Near The Street is the part of the restaurant that's on the path where rivers of people are walking the street smelling and tasting the great delicious dishes.
The Dining Room is an indoor place with an open fire for the beginning and the end of the season when the nights are sometimes a bit colder and, airconditioning during the hotter nights. Their Verandah is placed under the stars of Mykonos and with the candlelight dinner, and great wine leaves that will secure your intimate moments, this may be the perfect place for a great meal away from prying eyes.
They will start you off with Stuffed wine leaves with minced meat and rice with egg-lemon sauce. Try not to fill up with starters because this menu has more great things. Zucchini with eggs and herbs are the next on the long list. Spinach pie is a specialty here, but there is also feta cheese with olive oil and oregano, a plate with olives and anchovies in vinegar with garlic and pepper.
Besides dips that are not that common, you can find tzatziki, houmous peas, eggplant salad here, tzatziki salad, there's Tarama which is preserved fish roe, lemon, potato, and Eggplant salad for those who are not great meat lovers. Among hot appetizers, there are stuffed mushrooms, feta with honey and sesame, fried cheese, and grilled halloumi cheese with dressing.
From their traditional dishes, there is Mama's Soutzoukakia which is like meatballs with garlic and tomato sauce, Stuffed tomatoes with rice and other vegetables, Moussaka with eggplant, meat, and bechamel sauce, and Lamb in lemon sauce.
They had an ear for guests from all places in the world, so on their menu, you will find some more common dishes like Chicken fillets with cream and mushrooms, Chicken Cashews with soya sauce, Eva's Pork fillets with mustard, honey, and black beer sauce, Fillet steak Pepper and Madeira fillet steak.
Then comes pasta and they make it with almost everything like mussels, Penne Arrabiata, Spaghetti Napoliana, smoked salmon, also with cheese, Spaghetti Bolognese, with shrimp with sauce. For those who would like something even lighter, there is Risotto with seafood and Risotto with chicken.
They also have grilled food that includes chicken fillet, chicken souvlaki, pork souvlaki, with bread pita, tzatziki, fried potatoes, and fresh tomatoes. You can also order veal steak, fillet steak, and lamb chops.
With all of these great foods, you can complete them with white, red, or rose wines, and many of them are made on the island or in Greece. There is an offer of champagnes and sparkly wines, soft or hard drinks also made in Greece, and, as always, to sweeten things up, are a few of the finest desserts you could have with this meal.
Roca
This restaurant got its fame by its great location, its green view of the food and dishes, and its authentic Italian smell which is spread almost to the sea. From one side you can sit and watch people passing through, but for a more romantic look into the sea, sky, and stars there is the other side of the restaurant, something like a veranda, where you can have peace, quiet, and a more romantic point of view.
Like not many places on Mykonos, here can be quite loud, because they organize watching various sports events, where you can have a seat, pizza, and football matches and cheer for your favorite team.
To list them all, starting from the best they have Romantic View, Group Menu, Sunset Experience, Gastronomic Experience, Pasta, and Pizza, and for sports lovers, there is Sports Dining.
Like some fancy places here you can also find vegetarian dishes that may amaze you and feed your eyes and your soul. There is, among other dishes Eggplant starter with red peppers, and sweet and sour cream with yogurt.
But let's not forget the people who came to enjoy fresh fish dishes so they also have an offering of food to start the evening. There is fish roe salad, Mykoneean meatballs in tomato sauce, Feta cheese with sesame and sour cherry, Grilled Talagani cheese, Fried Calamari, Grilled octopus, and Tuna Tartar with honey and ginger. Be careful with your starters, because the best is yet to come.
Many meals may look like a salad but will make you full, and pasta that's made here is more than enough for a great meal. So anyone can have Lentils with their famous soft cheese, vegetables, avocado, and lemon. Blach Head Beens are also rarely made on the island but here you will find your plate if you like. Traditional Greek Salad is also on the menu like Rucola salad, Myconean salad, Chicken salad with parmesan flakes, and Boiled Potatoe salad.
When it comes to pasta the choice is getting much bigger. Neapolitan with Spaghetti, Penne with Chicken in mushroom sauce, Mykonean with Louza cheese, tomato, and Xinoturo, and Tagliatelle with fresh salmon and vodka cream. Then there is Shrimp pasta, Seafood Linguine, Pasta with King Krab Legs and Mussels, and also Pasta with Lobster.
There are a few meals with rice and among them is Mushroom risotto with Truffle oil, Shrimp with saffron, and other vegetables, Chicken with various mushrooms on rice, and Seafood with Shells and crawfish.
When it comes to Seafood and fresh fish dishes there are many from which you can choose like Grilled Tuna Fillets, Grilled Calamari, Grilled Shrimp with fresh vegetables and tartar sauce, Sea Bass Fillet, Grilled Crawfish, Grilled Jumbo Shrimp, Grilled Fresh fish, as a part of the catch of the day, Greek Lobster which can be Grilled or boiled, King Crab Legs made how you like it, and Seafood plates made for couples who like splitting products of the sea caught that day.
There are also meat lovers and they can find great offers for them here. There is Pork Chop Steak with vegetables, Kebab with grilled tomatoes bread, and light yogurt, Grilled Pork Fillet, Grilled Chicken Fillet, Rib Eye with baby potatoes and pepper sauce, Flank Steak Tagliata marinated in black truffle paste with asparagus and butter potatoes.
The best always comes in at the end and those are their sweets and their cocktails. From great drinks like Dry Martini or Dirty martini, some are made just in Greece like Greek Mojito, but they also make those which are widely known. In that group goes Lichee, Passion, Apple Martini, Margarita, Strawberry Daiquiri, Bloody Marry, Cosmopolitan, Mai Tai, and many others which someone can request to be made.
When it comes to sugar, there are also above the average. Here you'll find almost everything from ice cream to whole cakes.
In case you want something light for the end of the evening, your best choice would be a cup of seasonal fruit to finish your meal. But if you still have the urge to have more heavy deserts there are Caramel Semifreddo with peanuts and strawberries. Pavlova with cream & fresh fruit is a dessert for two people and Revani is served with chocolate and ice cream, and there is also a plate for couples with doughnuts and ice cream.
Kastro's
This little place that has only 4 tables will open its arms and give you one of the best meals you will remember for the rest of your life. But there is a catch, unfortunately, you will have to make a reservation to be sure that you will be taken in and have a great time. If you did that it is time to take a peak into their menu and see what kind of goods they can provide in such a small restaurant which is at this place since the 18th century.
First on the menu are appetizers that include big plates of Greek salads that include Taramasalata, Eggplant, Tzatziki, and crispy Pita bread. There is Sea Bass Ceviche which is kind of a raw salty fish with lime, orange, and other spices fed, and Grilled Calamari with Basil Pesto Tarama mousse with quinoa.
Then there is Grilled Octopus made in Red Wine Reduction, Pickled Shallots in Beetroot Cream. Grilled Manouri Cheese and homemade Ginger Marmelade is also on the appetizer menu as well as Mykonean Cheese Pie Spring Rolles, with Spicy Honey Sauce, and last, there are Chrimps with Mykonian Kopanisti Cheese Sauce.
Every one of these appetizers is by itself almost a full meal, depending on what you love to eat. There are also two choices of salads from which one is a common Greek Salad, and the other is the unique Mykonean Salad which contains Spinach, Lettuce, Grapes, Sesame Seeds, Louza, Ksynotyri Cheese Kopanisti dipped in Vinaigrette.
In the Main Courses, there is Pan Fried Sea Bass along with Roasted Almonds, with the side dish of Olive Oil and Lime Sauce and Purée made of Broccoli and Coconut. The next dish is Grilled Fresh Sea Bream Fillet served with Fish Broth, Citrus Dressing, and Blanched Vegetables.
There is also Grilled Lobster in Butter Sauce and that could be more than one person can eat. Traditional Pasta with Lobster is usually what they serve as a pasta dish. All of the fish and food from the sea is fresh and that makes the history of this place. That is why they prefer to cook food mainly with seafood as their first choice.
However, if you don't care for seafood, they also have much to offer, as every decent place has. So on the menu, you'll find dishes like Steamed Chicken with Baby gems, Mashed carrots, and Fermented Cheese. There is a special dish made just from Linguine, Mussels, Shrimp, Zucchini, Tarragon, and Light Cream. Next is a specialty for those who like to try new things, and it is Pasta made with Vodka and Salmon on the side.
Next, is a vegetarian dish made of Casarecce Pasta made with Truffle, Broccoli, Lemon Zest and all that made in Myconean way.
For the last, there is a Moussaka plate with Bechamel Sauce which is made out of potatoes or eggplant and minced meat in rows. So there is something for everyone and a place to enjoy yourself.
In the end, there is always something sweet to finish off your night. There are just a few of these sweets, but they are great so you can choose from Chocolate Fondant with Coffee Ganache and Vanilla Ice Cream, Greek Yoghurt Panna Cotta mixed with Walnuts and Honey Toffee, and their famous Baklava served for a couple of people with Ice Cream.
Combined, all of these make a great meal that will be remembered.
M-Eating
This is one of the more expensive restaurants, but when they feed your stomach, they will feed your eyes too, so this is a place that you would remember for a long time.
Their Mediterranean and local kitchen from Mykonos will soon ensure that you choose the right place for dining. Even though they have worked in the same place for more than a century, every once in a while they would adjust their menu according to the needs of the customers that want something new almost every year.
From Soups to Appetizers to Pasta and Salads and a variety of Main Courses finishing up with Desserts every bite will stay in your memory and on the top of your taste buds.
Start with Tomato soup with Bread toasted with Parmesan cheese or with Velvety Cycladic soup with fresh fish and just a bit of Lemon Juice: Before the main dish is served there are a lot of teasers grouped in Appetizers where you will find Meatball Stew served with Onion Stew on potatoes with roasted bread with cheese cream on it. The row continues with Mykonean Onion Pie, with sweet onion and 'tyrovolia' cheese and red pepper sauce.
There's also Sea Bass Tartare around which is a cold tomato soup and tomato jelly, then there is a special dish from local ingredients called Goat Cheese Trilogy made with tomato marmalade. This would be a special treat for everyone who likes gastronomy.
There is Grilled Squid next on the menu with pickled vegetables on cauliflower and beet mash sprinkled with Olive oil and lemon juice. Scallops are baked on Apple and orange sprinkles with fresh citrus fillets and a salad dressing made of wine.
Slowly cooked Cockerel made into a 'pastitsada' is a real Corfu dish made with a cute pasta Pyramid and little balls of Mykoneean cheese. Handmade Mykonian pork 'syglino' is a dish that had to be mentioned and fully deserves to be on every gourmet menu because the process of getting this kind of quality meat deserves nothing less.
Syglino is made usually with pork meat, marinated almost always in citrus fruit, and left to be cooked in the juices for a while, after that period, meat is left to be smoked with coal…at the end of the process, the pork is smoked on sage and then left in pork fat so it can be there during the whole winter ( or during the summer ). Mixed with the yellow split pea and rested on the mashed orange finally gets on the plate and is ready to be served.
Next on the menu is a Tuna patty served with portabello mushrooms in tarama sauce with parmesan cheese.
As we can see, the theme of the restaurant is citrus flavor, and that is why the next dish is Freshly-smoked tuna filet marinated with citrus fruits. 'Like A Myconean Sun' is called a dish that contains one 5-minute egg dropped in tomato sauce with smoked lamb bacon and pan-seared little bread with "tyrovolia" cheese mousse. Imam is a traditional Myconean and Greek dish with smoked eggplant, tomato with onions, and sweet garlic topping with handmade bread which smells like the dish of the day.
Served in quite different surrounding pasta that's served here is pretty much the same taste as its name points, but still, there is much art woven in creating these pasta dishes like Kritharotto is like an original carbonara, couscous with seafood ragout and spinach pesto, and fresh, house-made pasta with mushroom ragout with truffles and cream cheese.
Next are salads and here can also be seen how much they go with the current trends because also here were took time to make the meal presentable and tasteful. Sun-dried cherry tomatoes marinated in basil oil and cucumber jelly with feta mousse and toasted bread.
Spestofai is the name of the salad which is made with pickled peppers and sweet garlic, pickled onion, and homemade chicken sauce. This is probably the only dish on the menu that is not native to Mykonos but it's made like a Pelion dish 'with a twist.
Something a bit more common is the salad with figs made with a green salad and fig fillets, sesame bread, strong cheese, and prosciutto. And, of course, there is a seafood salad made with various tomatoes, of different shapes and forms marinated mackerel fish, and a cucumber roll with two kinds of octopus – marinated and octopus carpaccio.
The main courses are special every dish is special in its way. First on the menu is Sous vide lamb with artichoke and sweet onion combined on a plate with baby zucchini and potatoes. Moving on to the traditional braised beef cooked slowly and long to get the best taste, with mashed celery aside. There is also a pork filet with mushroom sauce, served with potato confit and strong graviera mousse.
From seafood, there are a few very interesting main courses like Sea Bass Fillet made with sweet and spicy tomato sauce with baby potatoes and Mediterranean bruschetta a la 'plaki'. There is also always a popular dish made of fresh fish or from 'fish of the day' where you will get a Fresh Fish Fillet with added artichoke sauce which is cooked in fish broth.
And finally, from main courses, there is a lighter version like Stuffed Chicken Fillet filled with Metsovone cheese and mashed Sifnos chickpea. Deserts are special in many ways because at the end of the meal, when you think that you couldn't eat anymore these deserts can and will change your mind. From Mycenean 'amygdaloto' made out of rich almond cream on Chrispy almond cracker with almond ice cream on the top to the Fluffy Chocolate Mousse with pear filling with a chocolate biscuit. Also, you can find Myconean Honey Pie, which explains itself.
As the most popular of deserts there is Cheesecake made with fresh strawberry marmalade aside. Duet of Namelaka is the next interesting sweet on the menu made with white chocolate with fresh and jelly pineapple and all that marinated in rum.
Lemon Tart is made traditionally and it's the one recipe that didn't change over the years. And the last on this price list is Traditional halva mixed with red jelly fruit, brittle sesame cakes, and sorbet made with forest fruit.
Even though their prices are high, there are always people willing to pay for a great meal, with a staff that's always smiling, and where the fresh absolutely goes under the signature bellow of every meal they put on the table. To be real, not everyone wants to dine out among the people.
Some people don't have that much money or simply like more to dine in their rooms but there's no need for worries because there are more than enough places to dine wherever and whatever you'd love. Here are some of those places…
Pita Wrap & Pizza
With very affordable prices and delivery service, you can not afford not to try some of their great dishes. It's like everything you need prepared and served in no time hot and tasty. So, Chicken fillet on Grill, Pork filet on Grill, or Lamb and Mince Meat Balls are very affordable and served with dishes on the side like Tzatziki salad and French Fries wrapped in homemade pita bread, and are ready to go ( popularly called Gyros ). Keep in mind that all of these and the rest of the menu you can enjoy right there on the spot with bigger portions.
Also, you can order them to get to you, so there is nothing you can think of that they can't do for you.
Next, there is Souvlaki made of Roasted Duck, Beef Souvlaki, and Fresh Salmon Souvlaki. Mykonean Sausage is a special dish that isn't so common on the island but they make it into Gyros in no time.
There is also a Vegetarian version of Gyros that comes with Greek Salad, Chickpea Falafel, Haloumi on the Grill, and Potato Pie.
They are also famous for their Pizza and they make it in all kinds of ways like Roca, Myconean, Philadephia Bacon Pizza, Pepperoni Pizza, B.B.Q. Pizza, Carbonara, Gorgonzola Pizza, and Low Fat Pizza, as low as Pizza goes. Even here Vegetarians can find their slice of heaven in Margherita Pizza, a Greek Pizza, Verdura Al Pesto, and Garlic Bread with flavored butter and mozzarella cheese. Aside from baked goods, they are pretty good with salads too, so when you are hungry, with little to no money in your pocket, prices here will amaze you…
From 3 up to 15 euros are all food here and the only one example of more money is imported wine, the rest don't get over 15 euros.
Pit Stop
This is another not-that-expensive fast food restaurant that makes great food that can be ordered to be delivered, or ready for you to go in no time. For the first time, we have hot dogs here on the island which is the specialty of the house. There is Classic Frankfurt Sauage with ketchup and mustard.
Mykonean Hot Dog contains Beff meat with Tomato and Pepper sauce and Mykonean sour Cheese, then there is Pit Stop hot dog like the theme of the restaurant that also has Frankfurt Sausage with ketchup, mustard, mayonnaise, cabbage, carrot, with mirin.
Ceasar Hot Dog has Frankfurt sausage, Ceasar dressing, Iceberg salad, and parmesan. A Hangover is the name of the sausage that should help you get through the rough morning after all night drinking. It contains pork pancetta with chicken nuggets, grilled tomatoes, and strapatsada eggs with Cheddar sauce. Sounds like a real wake-up breakfast of champions.
Next on the menu are burgers, and among them is Classic Burger made out of Black Angus minced meat, pickles, Iceberg salad, Bacon, Cheddar, Tomatoes, and ketchup and mustard. Then there is Mexican Burger with all the same ingredients with added Sriracha, Cheddar, sliced cheese, and Guacamole.
A La Creme Burger also has Black Angus minced meat, BBQ sauce, Cheddar and Iceberg salad, tomato, and mushrooms made into a cream. Like sausage, there is also Hangover Burger, and it has Yogurt Sauce with minced meat, Iceberg, Double Bacon, Double Cheddar Cheese, tomato, and fried egg. For lovers of lighter meat, there is Chicken Burger with panned Chicken, mayonnaise, Chilly sauce, Iceberg, Gouda Cheese, Edam Cheese, Siracha, and Cucumber.
Among the other offers, they have Club Sandwiches marked XL because with those sandwiches you can have for example the Classic one that contains Ham Fuagre, Iceberg, Tomato, Bacon, Mayonnaise, and French fries.
Chicken Club has Ham Fuagre, Iceberg, Bacon, Chicken salad, Edam and Gouda Cheese, also with French fries while Cheddar Bacon Club has also Ham Fuagre with Turkey Fuagre, Edam and Cheddar sauce and fried egg. To add something sweet there is Greek Yogurt, Hazelnut Crumble, Strawberry Coulis, and fresh fruit salad made out of Kiwi and Fresh Raspberries, and all of them cost 8 euros.
This is also one of the more affordable places where you will have a great meal, and still, save a little bit of money. Besides, keep in mind that they have a delivery service which works from starting to finishing hours, or if you don't want to wait, you can order your meal and have it ready until the time you arrive to get it.
Local Mykonos
This is also one of those places that have affordable but good and fresh prepared food. For those who want to dine on-site, there are starters while you wait for your food and drinks there is Tzatziki Dip, or if you don't like it there is Spicy Cheese Dip with French fries, and as a lighter version, there is Eggplant Dip or 'Saganaki' fried cheese.
Then there are appetizers which include Feta Cheese wrapped in Crust with Honey, and Black Sesame Seeds. Next on the row are Croquettes made out of Myconean Cheese with Fig Marmelade, or maybe Fried Zucchinis with Greek Yogurt next is Myconean Sausage with Sauce made of Mustard, and the last on the list are Mushrooms fried quickly in lard with Cheese from Mitilini, and Grilled Pancetta with Potatoes and one egg.
There is a Salad Bar that offers many great dishes. In the first place, there is a Greek Salad made of Tomato, Cucumber, Onion, Pepper, Feta Cheese, Olives, and Capers, then there are Grilled Vegetables in Balsamic Sauce. Next, to choose from salads there is Salad 'Local' made out of Mixed green Salads with Mustard Sauce along with Mushrooms, Cherry Tomatoes, Goat Cheese, and Croutons and this is the Salad of the house.
Chicken Salad is made differently in almost every place on Mykonos, so here, this salad is made with Mixed Green Salads with Ceasar Dressing along with Parmesan, Grilles Chicken Fillet, and topped off with Bacon and Croutons. Dakos is called a salad made out of Tomato with Crispy Homemade Bread and Feta Cheese, Capers, sprinkled with Olive Oil and Oregano. Also, all of them are very affordable and not one price goes over 10 euros.
From Souvlaki there is a pretty widespread, so some will be mentioned, like Pork Gyros with Pita Bread, in it are Tzatziki, Tomato, Onion, and French fries which goes in every salty meal.
The same Gyros you can find here with Chicken also with homemade skewers Pork or with Chicken leg skewers, then there are Gyros with Homemade Kebab also wrapped in Pita Bread, and of course, there are Vegetarian Gyros made out of various Vegetables with French fries and Sauce 'Local' made with special ingredients and the best for last is for those who are very hungry called 'Covered' Souvlaki and it contains Gyros Pork or Chicken, Lettuce, Fresh Tomato, Reggato cheese ( Irish cow's milk cheese ), Sauce 'Local' like the taste of the house.
All of the mentioned Souvlaki and Gyros can be ordered in portions, like a full meal it is more expensive for 2 to 4 euros, but it's made for dining inside and the portions are much bigger. The only change from the menu above is a few more meals, that are made mostly in this part of the world.
So, there is Skewer pork with side dishes also Skewer Chicken, Kebab Giaourtlou made out of Lamb meat, Homemade Kebab, Chicken Fillets, Beef Burger, Grilled Pancetta, Steak made of Pork, Beef Steak, Grilled Chicken ( can be bought a half or a whole Chicken ), Lamb Chops sold by the kilogram, and Mixed Grill where you can choose what kind of meat and how much of it you want to buy.
There are native specialties like Exohiko Lamb, lamb from the countryside, made with Vegetables and Cheese, also Kontosouvli Pork which is crispy and spicy, and on the menu is their special Greek Kokoretsi made out of lamb or goat intestines wrapped around seasoned offal, along with sweetbreads, hearts, lungs, or kidneys and all of that wrapped and grilled, and sliced into peace.
Although here you can find all kinds of meat you want, there is not a that big offer of sweets. There is Ice Cream, a tasty dessert called Trunk Chocolate With Nuts, of course, there is a bowl made out of seasonal fruit, so it depends on which month you decided to come here, and the famous Panna Cotta that also depends on what kind of fruit or Chocolate you will get inside the dessert.
For Mykonos, the prices here are great, and so is the food, so enjoy your dining at Local Mykonos.
Bambao Noodles & Bao Buns
This is something completely different from the other food places described here. Fusion of Asian cuisine mixed…well, with almost anything you could possibly think of having is maybe a unique situation to try combinations you haven't tried until you got to Mykonos. Rice and noodles are usually connected with some fish or pork, but certainly with Asian sauces made out of vegetables. The unexpected is that with these noodles and rice you can have anything you can think of.
In the first place, there are The House Specials, and the first thing is Rib Eye Bao, a dish that has Sliced Rib Eye, Truffle Mayonaise, Parmesan Cheese Flakes, and Fried Potatoes. Then there is Chicken Bao with Crispy Chicken Fillet, Peanut Butter, Mayonaise, Julienne Vegetables, Sweet Chili, Crispy Nuts…very fine and unusual combination.
Mixed Chicken Bucket in Panko which is a special kind of breadcrumbs made originally in Japan but nowadays used worldwide made from white bread without crust. Next on House specials are Bakon and Fried Cheddar, or like the other Vegetarian version of a dish, there is Edamame ( which is a preparation of immature soybeans ) with Salty Flakes.
Like every Asian place, there are all kinds of noodles and rice, so on their menu, there are Classic Noodles, Egg Noodles, Rice Noodles, Soba Noodles, Fried Rice, and in every box of Noodles you'll get cabbage, carrot & egg if you don't specify otherwise. Here comes the catch. Every one of those boxes is basic and has its price, but every other ingredient that you want to be added is paid especially, so be careful with your wishes. They are not too pricy all together but be warned that if you put everything, it will be billed separately.
So, in each of the boxes, you may want Chicken, Duck, Pork, or maybe Fresh Shrimp, or perhaps a Beef Fillet, Crab surimi would go nice with each box, Black Mushrooms, or simply Baby Corn, Bean sprouts would be nice, and also Broccoli, Peppers, some may even like a Pineapple as a side dish, but that's not all. There are also Cashews which are a kind of nut, Ginger, an extra Egg, Spring Onion or Red Cabbage and all of them are nice with noodles, but once again they are all paid separately.
Sauces are packed in small portions and are the only thing that you don't need to pay for. Among them are Teriyaki Sauce, Bambao, Sweet Chili Sauce, Singapore Sauce, Sweet & Sour, Coconut Curry Sauce, Satay Sauce which is pretty hot, and at the end is the hottest of them all is Hot Sichuan Sauce. Toppings are also sold separately, and among them are Fresh Coriander, Onion Chips, Garlic Chips, and Sesame Mix, the most expensive are the Crispy Shrimp Topping, and Crab Popcorn.
Next on the menu is Handmade Oversized Steamed Bun which is a complete meal that for example Chicken Bao where you will get Crispy Chicken Fillet, Peanut Butter, Mayonaise, Julienne Vegetables, Sweet Chili, and Crispy Nuts. Bao Hot Dog contains Steamed Sausage, Mustard, Ketchup, Caramelized Onion, Carrot, Red Cabbage, Mayonaise, and Sweet Chili with Onion Chips. Caesar Bao has Crispy Chicken Fillet, Smoked Bacon, Sweet Chili, Parmesan Flakes, and Cabbage with Caesar Sauce.
Then there are Avochicken Bao Buns where in the name of the dish you can guess what it contains so in this Bun you will get Chicken Fillet, Smashed Avocado, Yogurt Sauce with Cabbage.
Chicken Nuggets Bao is next on the menu and it has Crispy Chicken Fillet, Smoked Bacon, Mayonaise, Cabbage, Carrot, Ketchup, Mustard, Sweet Chili, and Caramelized Onion to make it a bit sweeter. Tempura Shrimp Bao has Tempura Shrimp, Julienne Vegetables, Ginger Pickle, Mayonaise, with Onion Chips. Vegan Crispy Mushroom Bao Bun is a Vegetarian version of Bao Buns, and it has Chrispy Mushroom, Julienne Vegetables, Red Cabbage, Ginger Pickles, Sweet Chili with Soya, Mayonaise, and Onion Chips.
Pork Bao Buns have Slow Cooked Sweet and Sour Pork, Glazed Soya, Cucumber Pickles, Juienne Vegetables, and Mayonaise with Roasted Sesame. Duck Bao Bun has Crispy Duck, Cucumber, Spring Onion, Coriander, and Duck Sauce on top. Rib Eye Bao Bun has Sliced Rib Eye, Truffle Mayonaise, Parmesan Flakes, and Fried Potatoes. If in some cases you don't get Crispy Potatoes or Onion Chips, you will have to pay them extra.
In their offers, they also have Buckets with Chicken among which are Chicken Wings in Panko, Crispy Chicken Nuggets in Panko, and Mix Chicken Bucket in Panko, but if you want side dishes with them like Salt and Sweet Paprika or Bacon and Cheddar Cheese, Mayonnaise and Sweet Chili or Truffle Oil and Parmesan Flakes you will have to pay it extra also.
Among the toppings that you may want are also Edamame With Salt Flakes, Vegetarian Spring Rolls with Sweet Chili, Tempura Shrimp with Sweet Chili Mayonnaise, Crab Popcorn with Mayonnaise and Sweet Chili, and Prawn Crackers are also paid separately.
There are just two Salads among the offers, and those are Thai Chicken or Shrimp Salad made out of Fried Chicken or Tempura shrimp with Mango, Coriander, White Onion, and dressing on top and the other is Wakame Salad.
As for desserts, they don't have too big of an offer, there is Chocolate Strawberry Bao which contains Chocolate Praline, Strawberry and Biscuit and the other is Salted Caramel Bao with Chocolate praline, Banana, Salted Caramel. That is everything that you will get if you decide to have dessert at this place.
Also, there are many drinks here, and some of them are Japanese so this is one of the reasons you should check out this restaurant. Have a nice meal and keep your eyes on the dressings and toppings because they cost extra.
Souvlaki Mykonos Cantena
This is something completely different from what was described in this post. The dining place is in the busiest part of Mykonos, in Tourlos where you will enjoy the view of the sea and the port. The most exciting thing about this place and their trademark is food delivery which they make with an old red truck that's equipped with everything needed to make, serve and deliver a great meal. They have affordable prices that everyone will be satisfied with.
There are only two limitations – the minimal price for orders is 12 Euros, and if you order from really far away, the minimum order must be about 30 Euros.
They have almost everything you may need either you dine at the place or you order to be delivered. Some combinations are maybe a bit different than the rest of the places you'll dine in, but it's worth trying for sure.
Their menu starts with the salad bar, where you can find Quinoa salad with white balsamic sauce, avocado, onion, coriander, pepper, and peanuts. Green salad goes with Sun-dried cherry tomato, peanuts, goat cheese, and white balsamic vinaigrette. Greek Salad is made with tomatoes, olives, cucumber, onion, croutons, and feta cheese with a bit of Caper.
Caesar's salad is made out of Chicken with Bacon and Parmesan, Caesar's Sauce with little croutons. Among the Appetizers, they offer Fresh French fries, and toppings for them are fresh Oregano, Cheddar Cheese, and Crispy Bacon, or Mayonaise made of Truffles, or with Fetta Cheese or just Parmesan.
Tzatziki with Pita Bread, Falafel with yogurt sauce, Zucchini Balls, also with yogurt sauce, Fetta Cheese, and freshly baked Pita bread. As they say, their most selling dish is Chicken Nuggets with Mayonaise sauce.
If you decide to eat at the place, there are very affordable and among them, they offer Pork Chops, served with Tzaziki, Tomato, fresh Onion, Potatoes, and Pita Bread. Then there are Chicken Breast Fillets made with Yogurt sauce, Tabbouleh salad, Fresh Tomatoes, and Pita Bread. The most expensive dish may be the Lamb Fillets with chopped Tomatoes, Tzatziki, Onions, and Potatoes with "Florina Pepper" ketchup which are sweet and spicy at the same time.
There are also a few kinds of Souvlaki in the first place there are Pork Sticks served with Tzatziki, Tomatoes, Onion, Potatoes, and Pita Bread. Chicken Souvlaki is made out of Chicken legs on a stick, with side dishes including Tomato, Cabbage, Carrot, Cocktail sauce, Potatoes, and Pita Bread. Next is Kebab with Tzatziki, Onion, Potatoes, Tomatoes, and Pita Bread aside. Deep fried Shrimp is not that usual but they have it on the menu, and it comes with Beetroot sauce, Tomato, Lettuce, Potatoes, and of course, Pita bread.
In Lunch Boxes that are not expensive, there are Pork or Chicken skewers, with Potatoes and Bread, then there are Pork or Chicken skewers with a few side dishes like Tzatziki, Salad, and Bread, and a favorite dish chosen by the buyers is Falafel or Zucchini Balls with yogurt sauce, Tabbouleh salad, Tomato, Green salad, Potatoes, and Pita Bread.
There is also a Mixed Grill Combo, made for 2 persons, which is 2 Pork sticks, 2 Chicken sticks, or 2 Kebabs, Greek salad for two, Fetta cheese, Tzatziki, fresh French fries, and fresh Pita Bread. There is also a Mixed Vegan Combo, that is also made for 2 people.
Vegan Combo includes 4 Falafel balls, 4 peace of Zucchini balls, Oyster Mushrooms, Grilled Vegetables, Greek Salad, Tzatziki, Frenc fries, and fresh Pita Bread. That should be more than enough for 2 people.
Then, there is the Special Mixed Grill which is the specialty of the house, and among them are 2 Kebabs, 2 Sausages, 2 Pork Chops, 2 Chicken Fillets, 2 Lamb Fillets, Greek Salad, Feta Cheese, Tzatziki, French Fries, and Pita bread. It may be a bit more expensive than other portions, but here two or three people will be fed to the fullest.
Next on the menu are Burgers and they have a variety of them. First, on the list is the Cheese Burger made out of beef with mustard mayonnaise, ketchup, gherkin, cheddar cheese, tomato, onion, and green salad. The second is Beef and Shroom Burger which is made of beef meat, tomato confit, parmesan, mushroom ragout, truffle-mayo, and green salad.
My Beef Burger is the third on the menu, and it has beef, smoked bacon, goat cheese, tomato jam, mustard-mayo, caramelized onion, tomato, and green salad. The final fourth is the Chicken Burger, for people who don't prefer beef, and it has crispy chicken, cheddar cheese, tomato, onion, pickles, mustard-mayo, and ketchup.
They are also Sandwiches and Hot Dogs and the first sandwich is made of fried chicken breaded with panko, mustard, mayonnaise, cabbage, and homemade BBQ tonkatsu. Their Club Sandwich has turkey, cheese, green salad, mayo, bacon, and potatoes.
Pita Club Sandwich Chicken is the next on the menu, and it has chopped chicken, lettuce, tomato, cocktail sauce, cheese, and french fries. Pita Club Pork Sandwich contains chopped pork, tzatziki, onion, green salad, cheese, and french fries. Hot Dog Hangover is, as the name says, the dish which will get you at least out of bed. It is made of Frankfurter Sausage, cocktail sauce, caramelized onions, tomato, and french fries.
All of those meals you can order to get to your place, but if in some order you need special add ons you can get them for a really low price. You can, for example, have Double Cheddar cheese, Extra Bacon, Caramelized Onions, Double Parmesan cheese, Fried Egg, Extra Goat cheese, Extra Mayonnaise, Potatoes, and Cheddar Bakon.
There is also Souvlaki Wrapped or Gyros on many offers, so you can have Pork Gyros with yogurt sauce, tomato, onions, chilly sauce, and tahini. Then there are Lamb Gyros, with yogurt sauce, pepper pesto, potatoes, tomato, and onion. Also, there is Chicken Fillet with Tabouleh, with yogurt sauce, tomato, and potatoes, then there is Chicken Fillets and Caesar's, with lettuce, Ceasar's dressing, potatoes, parmesan, bacon, and tomato, Pork Souvlaki has tzatziki, onion, tomato, and french fries, Kebab has tzatziki, onion, tomato, and potato. Deep Fried Shrimp has beetroot pesto, tomato, lettuce, and potatoes.
There are also Vegetarian dishes such as Zucchini Balls, with yogurt, tabouleh, Cantina sauce, tomato, spearmint, and french fries, then they offer, Falafel with all the same additions to the dish and with cucumber, tahini, and chilly sauce, Mushrooms with yogurt, tahini, tomato, and potatoes. Grilled Vegetables have yogurt sauce, tomato, green salad, parmesan, and potatoes.
If you decide to stay inside, you can also add something sweet to your order like Soft Vanilla Ice Cream, or the Waffle with Whipt Cream and with Caramella Cream. There are a few of them like Waffle With Pralines, and at the end is Cake Of The Day, and they make a new cake almost every day. Have a great meal at the place or at your home wherever you feel like, and the best of all is that the prices are very affordable that you could order from the place you are staying at and don't forget that the minimum for orders is 12 euros.
Do not forget that they can deliver drinks to you, too, and if you don't want to get out, you don't need to move further than your phone. Those are great food, with very low prices for the island of Mykonos. Keep in mind that in some places you can't even get a decent drink for 12 euros, and here everything is freshly made, and prepared with love.
Of course, there are some of these places where people had really bad experiences, and some of them were disappointed. Some people even felt like they took their money, and just throw them out, so the next guest can come to their place.
But not everybody is that bitter. Most of the visitors had a great time and stated that the workers were too kind and that owners of some of the restaurants would be greeting customers in person, which gives a special touch to a fresh meal that is being served.
FAMOUS HOTELS AND PLACES TO STAY IN MYKONOS
If you ever imagined luxury hotels, and other resorts and places to stay Mykonos is one of the best places to see full glory and great service in the world. Even though there are not many people who live on Mykonos full year round, there are people who come here during the summer to work there and earn great amounts. There are so many of them that it could cover more than one website.
Here will be described just a few of them, just to show you how great it can be on this island. There is almost everything for everyone, especially for those with deep pockets. But also, some places would be more affordable and we will find a few of them.
Also, you can just get there, and try and find a place to stay on the spot, but be careful because in the middle of the season there are almost all the places are full because this destination is very famous among young and rich people who love to party and are certainly booked almost every single free room on the island. We'll start with more glamorous places and try to find something more affordable along the way.
Aeolos Resort
One of the finest laces that guarantee you everything you will ever need at one place you will get here. If you need peace you will find it here, but also if you want to party, here is the place for loud music and great nights on the island of Mykonos.
Spreading over 4000 square meters, this place is separated into three different places they are The Main Section, The Daylight Wing, and The Sunset Wing. Decorated in a minimalistic touch mostly in the common areas, but some rooms are decorated for special guests. This complex has 90 rooms, 3 large swimming pools, 3 Jacuzzis, a fine dining restaurant, and 3 pool bars, where you can enjoy drinks made just like you would want them.
All of that and the great sea view is surely something that will make you more than happy. On one hand, you can choose to stay in the freshwater, without the fine sand that goes everywhere, to the same sand that will get you salty water, a windy beach, and a bar to refresh. But if you thought that you can escape from their natural architecture, you would be wrong because everything here is made to reminiscent of the natural outside narrow streets of Mykonos, and the most Cycladic islands.
Now here are some facts about the hotel. On the first floor of the hotel are less expensive rooms and everyone has a terrace with a pool, a garden and two sides have a view of the sea.
That is in the Main Section of the hotel while in the Daylight Section of the hotel there are 30 rooms with a pool and sea view, and in the third location called the Sunset Wing, there are 28 rooms that are the most expensive are double or triple beds called the superior rooms. No matter which Wing you choose, you will enjoy a perfect service and benefits that you could only dream of.
All rooms have great decor, fine furniture, soft linens, and mini refrigerator, a kettle for coffee and tea, LED satellite TV, and Wi-Fi internet that's free for every room or place in the hotel, including the iron and the ironing board, and a baby bed that needs to be reserved before you get to the hotel so it would be ready when you get there.
Among the facilities that are inside and out of the hotel, there are the lobby, breakfast room, or restaurant, 3 snack bars where you can also just enjoy sipping your drink or cocktail, 3 swimming pools with fresh water, and 3 Jacuzzis.
There is also a garden, and beside the pools are loungers, tables, and Sun umbrellas. In the complex, there is a big room for relaxing that includes the library, where your peace won't be disturbed, separated space for suitcases and the rest of your luggage, a safety deposit box, and private and secured parking spaces, where there is a place for everyone, and it does not require a reservation.
The hotel proud itself with its luxury restaurant called Kozzen located in the Main Wing of the hotel, which serves breakfast and brunch from 08:00h until 15:30h. They found the best chiefs to manage this many meals that include also a lunch that starts at noon and ends with the dinner in 19:00h. If you want something special, there is a fine dining experience that starts at 19:00h and ends at 22:30h.
Among the offered services are Extensive Buffet Breakfast, 24/7 Reception Service, Room Service, Express Check-In or Check-Out Service, Private Deposit Safety Box, and Private and Secure Parking which is included in the price, and Personal Bus Stop, which is near the hotel, Free Transport to and from the Airport ( if it's between 7 A.M. to 11 P.M. ), and another important thing, that's pretty rare for any hotel or motel, this place is Pet Friendly ( so you can get here with your pet with no additional charge for them ).
If you choose this place, to stay in whatever you may need you will find it there. The great thing about this place is that some of the staff will also safely get even if you are getting here by boat.
Everything is pretty near and the Mykonos town is less than 1 km away from this hotel, but the view from every terrace or veranda here is priceless.
Aeonic Suites & Spa
This is something completely different from all the other hotels in Mykonos. The prices are high, but everything is worth every cent anyone will spend here. The luxury that is offered here is like in some new movies about the future. The treatment is also like you are a movie star.
Upon arrival, that can be arranged for you from the airport or from the port. From every way you get here, you will be welcomed with arms wide open.
At the start, you will get Gift Voucher for Spa. You will be pampered like you haven't been before.
There are special benefits if you make your booking online through their website. Early Check-in or Late Check-out is not a problem if you book directly through their site, also there is Free Upgrade on your Internet availability, Special Gift Spa Voucher, and free Transfer or Car Offers for those who go directly from their website.
Their motto is " The Luxury of Time in a Timeless Place ", and just by looking at the pictures of the place, everyone will see that at this place which was renovated, the clash of the old time, and new age modern style are made to look and feel calm and relaxed just upon arrival.
Besides the sleepover and the calming surrounding in every step you'll take the Spa and Refreshment, there is also a Conference Room, where you can organize your business if you need to.
Every Suite has its own name, and among them, you can find Epic Junior Suit with Jacuzzi and garden view, Eon Junior Suit with Plunge Pool, Chronos Suite with Jacuzzi, Eternal Suite with Plunge Pool and a Sea View, Eon Junior Suite with Supreme Pool and Garden View, Zoe Junior Suite with Plunge Pool, and partial Sea View, Eternal Suite with Supreme Pool and Sea View, Stone Suite with Plunge Pool with Garden View, Celestial Suite with Private Pool and Sea View, Aperion Suite with Private Pool and Sea View, Premier Garden Front with Superior Pool.
All of them sound and look like welcoming the Kings and Queens of the modern age. Minimalism is the theme of all of the suits, but still feel warm and peaceful. Some of them are for 2 people, and some that are bigger, are for up to 4 people. Private pools are obviously a real picture of wealth, and are not only great for the eyes but are comfortable even for the most demanding guests. Even they can not find anything to complain to.
Among places to dine in this great resort, they have the Cove Restaurant, the Cove Bar, and Kyano Bar and of course, they have Suits Dining. A restaurant is special because it will feed your eyes and your stomach too. Cove Bar has special lights that will make you and your company feel more than welcome, where you can feel like you are on some other planet. Kyano Bar is open all day and night and they are preparing refreshments for all the people who are visiting. They make cocktails with or without alcohol in them.
Having in mind that they have great indoor dining, you don't need to get out of your suite, your food and drinks will be served to you at your poolside or beside your Jakuzzi. That would be a great solution if you want your privacy.
Many people underestimate the value of those several precious days that they have to go on vacation, and sometimes don't fully enjoy themselves when they finally get to Mykonos. Others, on the other side, keep in mind always that everything that they want and need can be delivered to them. For a good price, of course, but some people have just those few days a year when they can enjoy, and pamper themselves. Why shouldn't they relax and just do nothing?
Aeonic also has something that other hotels don't. When you finally get to Mykonos, which is the furthest to the south of Greece, the first thing that will pop into your mind is how to relax from arrival.
The people from this hotel will discover your needs and wishes and make them true. Relaxing massage is one thing, here you can get full treatment that will rejuvenate, relax and make it unbelievable for all of your senses, both inside and out. Your mind will feel much better as well as your body and soul, and you would think that time is going slower with every second you let your body relax.
There is a Private vet area with a Jacuzzi and Sauna, Hammam there, Gym with a separate area for Yoga, Face treatments, and Full Body treatments for couples, and also for single people, Spa Packages, Beauty Salon for your hands, feet, and hair, with professionals working there, just to make your stay here as much calming as it can be.
Among others, there are Locker rooms, Spa Services by the Pools, Treatments in your rooms, and something that is not that usual for hotels like this one, External guests can also come here and have the same full treatments as the guests that are staying in the hotel, and a Spa Boutique, where you can find many useful things that you can take with you as a great memory, or for use during the prolonged time.
While you are resting if there comes an urgent meeting, here you will find great facilities to have meetings with a lot of people. Hopefully, you won't need to break your bliss here, but if needed, the hotel will organize everything for you.
The Wild By Interni
This is another one of the great hotels on Mykonos that offers almost everything you may ever desire. This family place was made by the two brothers of the Varveris family, who were and still are working in the decoration industry, came here one summer and decided to stay here. While doing that, they wanted to share their emotions and passion for this place with other people, and bit by bit they made a great but wild resort which includes suits and villas, pools, the closeness to the sea, great tasty bytes of freshly cooked meals, spa, and gym.
Partly rustic, partly new age, and partly wild, this is the place that has everything to offer and wants from you just to be here and feel the breeze, while the best of the best are taking care of your every need, because, when it comes to vacation, there is never too much sleep, too much of fun, too much of great people, and too much of time for yourself.
Starting with the suites and villas Authentic Villa with a private pool and sea view is a great start when you look at what is offered. Over 100 square meters, there is a traditional Greek yard with a private pool, and a sofa, with sunbeds. This is a non-smoking room, with free Wi-Fi, two King size beds, air conditioning, and smart TV, Shower with two more bathrooms, a safe box, and a minibar. Bathrobes are in every room along with the slippers that you'll find comfortable.
In the wooden surrounding, called Deluxe sea view, this small apartment with 25 square meters, is the best used and decorated to fit everyone who doesn't look much about where are they staying, as long as there is a place to rest their head in the evening. In any way, this place has everything that one could desire to stay for as long as they need.
From the small terrace, where you can rest in the morning, there is a sea view, this is also a non-smoking room, with complimentary Wi-Fi, a king-sized bed, the room has air conditioning, 43 inches Smart TV, it has a shower with everything in it that anyone can need, with safe box, and mini bar.
Junior Suite with Sea View has 28 square meters with sea view, a Terrace with Sun beds or loungers, and a table on it, Wi-Fi and King size bed, Smart TV, a Shower, Bathrobes and slippers, and everything in the Bathroom that you may need, also has Safe Box, and mini bar.
Superior Suite with Sea View is another great room that has everything that all other rooms have including Terrace with Sun beds or loungers and a Table, Complimentary Wi-Fi, and King size bed, Smart TV, Shower, Bathrobes, and Safe Box, and Mini Bar.
Signature Suite Plunge Pool with Sea View is another room that has everything that all the other has, all commodities that even the most demanding guests can be satisfied. Wood with its natural stone is their signature, and this place is also made of those elements.
There are two more Suits and one of them is a Unique two Bedroom Suite that has Terrace with loungers and a sitting area, with an Outdoor tab, and Τwo King size beds, Two ensuite bathrooms with a regular Bathroom, Sofa, Shower, Smart TV, and comfortable Sofa.
The other suite is their signature place named The Wild Two Bedroom Villa with a Private Pool that has 75 square meters, and among all the other things that all the other suits have, there is a Terrace with a private pool, sun-beds or loungers, and sitting area, Τwo King size beds, Shower, and Two ensuite bathrooms. Here you'll have peace, quiet, and everything else you may need during your stay here.
Beach is in the cove, and therefore a private beach where you can relax and be secluded from the outside world. There is no sand on your towel if you prefer lying in the sand, but there are beach chairs with Sunbeds that you can lay on the whole day.
There on the beach, you can have almost any kind of food or drink, but the main thing that these two brothers are proud of is that everything is made fresh, each day, even the slow-cooked meals, and more important than that is that they made their food out of fresh and mostly local ingredients.
They went so far that you can even have breakfast on the beach instead breakfast in bed. But that is not all. Their menu is different from many others so, for example, you can have Salad with watermelon, baby rocket, crumbled Feta cheese, basil, spearmint, lime zest, and an extra virgin olive oil and carob molasses dressing, or a Club sandwich with pastrami, baby rocket, tomato slices, gruyere, olive, caramelized onion sauce.
Everyone will agree that those are not the most common foods we could find on the menu of some pretty pricy restaurants, and you can have them on the poolside or even beside the sea.
Breakfast is also something unusual because they serve The Wild omelet with zucchini, manouri, and Anthotyro cheese and herbs, or maybe you'll prefer "Kagiana" traditional greek scrambled eggs with tomato sauce and feta cheese flavored with oregano, or perhaps something less complicated like Egg white omelet with green and red peppers, or the most common breakfast of all Porridge with walnuts, linseed, and raisins.
There is also breakfast for a couple of people which contains Avocado toast with poached eggs and smoked Salmond.
There are also Club sandwiches with pastrami, baby rocket, tomato slices, gruyere, olive, and caramelized onion sauce, also they have Veggie wrap with avocado, bean sprouts, lime, mustard, soya yogurt, and red Lola lettuce.
Besides that, you will be amazed that they offer more deserts than many of the restaurants, and among them are Acai berry bowl yogurt smoothies garnished with fresh strawberries banana, coconut flakes, and agave syrup, or Yogurt with Greek honey linseeds and walnut, Greek donuts topped with honey, cinnamon and vanilla ice cream, Dark chocolate mousse with sweet spices and Greek marzipan, Fillo Kadaifi rolls, stuffed with roughly chopped almonds and walnuts bathed in lemon scented syrup. This is more than enough but there are more deserts on their menu, this is just to tickle your imagination.
The Taverna of the Wild hotel has so many meals that you won't believe what great things you can get if you decide to stay here.
Here are just some of the dishes that are on the menu:
Local tzatziki or Eggplant spread or Tarama fish roe spread served with crispy Cypriot mini pita
Steamed mussels with white wine flavored with garlic and Boukovo spice
Fried crawfish meat in a crispy iceberg nest and sauce tartar
Salad with roasted peaches
baby spinach
radicchio
Lountza cured meat
walnuts
manouri and Vinsanto dressing
Pork gyros and pita bread with tzatziki, accompanied by a fresh tomato and onion salad
some traditional dishes like Traditional "Moussakas" with eggplants, potatoes, ground meat, and béchamel sauce
Linguine with zucchini
feta cheese
fresh herbs
Also for the meat lovers there is Veal steak with country potatoes flavored with thyme and cool salad with balsamic vinegar, and Chicken ribs.
Another thing that is unusual about this place is a menu with Raw dishes. Among Vibrant Apertizers are ( among others ) Blanched soybeans with Greek fleur de sel and Japanese sansho pepper powder, Seabass slices on a sour dressing with extra virgin olive oil, local capers, Greek sea salt, chili dots, and chives, Catch of the day with coriander, lime, watermelon, and chili, Seared local tuna loin on a bed of thinly sliced white onions, extra virgin olive oil, and soy vinaigrette, and Oysters covered with freshly picked Cycladic sea urchins, salmon roe and accompanied by three spicy dressings.
Nutrient Salads are also made out of raw food, Mixed seaweed with sliced cucumbers, carrots, and roasted sesame in a sweet and sour Japanese vinaigrette accompanied by fried slices of fresh local seafood.
Our Vegan is made for guests who are stopped eating meat and it is also a raw version that includes Handpicked fresh vegetables with soy vinaigrette, roasted Greek nuts, fried leeks, and garlic chips, Aegean Sashimi contains Catch of the day, local fresh vegetables with soy vinaigrette, roasted Greek nuts, and fried leeks, there is also Blanched-and-squeezed spinach with tahini vinaigrette and roasted nuts. Raw like Sushi are Greek crabmeat, avocado, truffle oil, flying fish roe, mayonnaise, and Salmon Avocado Rolls are made of Fresh salmon, yuzu, salmon roe, chives, and avocado.
There are many more raw dishes also there are deserts that are made out of fresh chocolate, famous Greek yogurt, and there are always more than enough fresh seasonal fruit and your desert depends on which month you arrive on the island, It could be fresh peach, figs, or watermelon, which is the best at the end of July and at the beginning of August.
This place is for sure for deeper pockets, but it guarantees that you won't have a care in the world. You will remember this trip for the rest of your life by more than just the ambiance. Sure thing is that anyone that comes here will always want to get back here eventually. However, have a great time, and enjoy every minute you spend there.
Harmony Boutique Hotel
Like almost all the other places on Mykonos, this is also made like all the other buildings to look like common decorated buildings on Mykonos. All the rooms are architecturally made by minimalist standards and delicate luxury that anyone will want during their stay on Mykonos.
Their motto is "Home Away From Home", and their place and services will make you feel better than at home. Having being luxurious, from the outside it isn't at all rustic inside, where you'll find minimalism at every corner inside the Harmony Hotel.
They categorized four types of rooms among which are Hotel View Rooms, Sea View Rooms, Garden View Rooms, and Superior Rooms. Every room in the Hotel has a great look, and which every way it looks, you'll see the beauty of the Windy Island. Besides the hotel rooms there is a great restaurant called "Amvrosia Restaurant", and to add to it, there is also Pool Bar, to get refreshments, by the sea, where you won't need to get inside to get refreshments for laying in the sand or on the deck chair on the beach.
Why choose this hotel or one of the rooms in it, first on the list is Hotel View which are rooms with traditional Mykonian yards, and guests have all kinds of benefits when staying here. Coffee and tea are free for every guest of the hotel, there are also CD players, and air conditioning also free for every room, satellite TV, and safe box in every room, a minibar, and a direct phone line to connect you with your loved ones, or your business partners.
Also, there is 24 hours room service, so you won't need to get out of the room if you need anything that you can imagine, for colder nights there is centralized heating if the temperature is lower than 12 degrees, also a hairdryer, a scale, and double glazing on every window in every room. There is a terrace for every room and a small table with chairs where you can enjoy the view of the garden. In every bathroom there are little bottles of shampoo, soap, and towels, and, it is equipped for the most demanding guests.
The view of the big blue Aegean sea is the nicest view because not only you can see the sea, but the white and blue houses and hotels leading to the beach. Here you can also have everything that almost every other room has, and it includes free coffee and tea every time you want them, CD player, air conditioning, 24/7 room service, independent heating, if you feel a bit cold, hairdryer, scale to watch your weight when on holiday if you need to, and double glazed glass on the windows, and direct phone line to the outside world.
The view of the big blue Aegean sea is the nicest view because not only you can see the sea, but the white and blue houses and hotels leading to the beach.
Here you can also have everything that almost every other room has, and it includes free coffee and tea every time you want them, CD player, air conditioning, 24/7 room service, independent heating, if you feel a bit cold, hairdryer, scale to watch your weight when on holiday if you need to, and double glazed glass on the windows, and direct phone line to the outside world.
Those rooms have little make-up tables with big mirrors and a bit bigger terraces where you can spend all of your afternoons, while is too hot to be at the beach. Also, there are sun beds on the terraces for this type of room.
Garden View Rooms are different and weird in some way because of their Myconean verandas overlooking the garden in front.
Verandas are made almost all in the same manner along with comfortable deck chairs for hours to relax, a table, and also free coffee and tea beverages, an air conditioner, CD player, 24/7 room service, satellite TV, free safe box for your valuables, mini bar, direct dialing over the phone where ever you need to call someone, free internet access, central heating ( which we hope you'll never it ), hairdryer, and scale.
Maybe it is important to say that time to check in is 14:30h and the time to leave the room is noon on the day you were planning to leave the island of Mykonos. Also worth mentioning is that here you can pay via Diners Club card, Visa, American Express, and Master Card. Cashe is also acceptable, but there are options if you don't carry a lot of cash with you at all times.
Superior Rooms are the best rooms in this hotel. They embody luxury in every corner of every superior room.
Those rooms have unique lines, although they kept minimalism, here you can see what can be made out of minimal things that fill the room perfectly. The striking elegance of space will leave you breathless. With spacious rooms and the big terraces will give you the greatest sunset you have ever seen in your entire life. Those are the things that will make you want to come here again the next year and every other year.
Like every other room in this hotel, there is complimentary coffee and tea, a CD player, free satellite TV, and a safe box, but here in these rooms, you have an espresso machine for coffee, free internet, independent central heating, scale, but also a Jet Shower, complimentary slippers, cosmetics bought specially for you ( designer names of shampoo, shower, hair conditioner, hands and face creams, and soap for those who want to use it, and anything you may need extra ).
Then there are bigger towels, mini bar, direct-dialing phone for any place in the world, 24/7 hours a day room service, hairdryer, bathrobes, DVD player or Fax machine if you need them, hairdryer, as well as the complementary fruit basket, that will wait for you upon arrival if you are staying in one of these suits.
Harmony Boutique Hotel Facilities are almost anything you may want without leaving your hotel. In the first place, all taxes on every price are already included, and every Credit card is excepted, no matter where you came from, your payment method is more than welcome here. In the lobby is satellite TV also, you can order waking up at any time, early breakfast in bed, and daily cleaning of every room in case you don't want to be disturbed. If in any case, you need a laptop or tablet, you just need to ask for it and they will loan you one.
There are also some commodities that you can't expect in other hotels. To start with children from 2 up to 12 years can have a third bed and pay 50 percent less than the full charge. For all guests, there is a welcome drink, and if you are very hungry you can get a snack box upon request.
Then there is a pool bar, different made pillows from which you can choose, there are beauty and hair salons both for the ladies and gentlemen, personal massage using various techniques, scuba diving with all the equipment that you may need for this great adventure, and free bicycles if you ask for it or need it for anything.
Also, among the other things here they allow small pets to stay there free of charge, you can ask for a crib if you are traveling with a small child, luggage service, breakfast served from 08:00h to noon every day, laundry services if needed, seat for babies for the table, and for elderly, there are manicure and pedicure, or therapy pedicure for tired legs.
The Harmony offers a tour of the island, they will organize horse riding if you want to, car and motorbikes for rent, and VIP excursions on the island, and off the island to see the other islands that are around Mykonos.
Harmony thought about most others didn't and those are handicapped people who have access to the breakfast hall and to the rooms, the pool has an elevator also for the people who can not get to it, and the rooms which are equipped for the handicapped people have everything they may need to ease their stay here. That is one of the things why this hotel has such high ratings.
For those special guests, there are shortcuts and elevators, private parking with a lift, as well as more space to move around, all for free.
And there is a category of people who have deeper pockets and can afford special treatment, upon request the hotel can and will organize a private Yacht, for any duration, a helicopter, or organize other exclusive activities. It may cost a bit more than the rest hotels, but here you will feel the beauty of a truly relaxing vacation. Enjoy and have a great time.
The Petros Pelican Mykonos
Petros was a Pelican, who was the official mascot of the Greek island of Mykonos. In 1954 an injured pelican was found off the strand of Paranga by a local fisherman. The white pelican was cared for and stayed on the island supported by locals. It soon received the name "Petros" after the Greek word "petras" or "semen" resulting from a corny joke by local fishermen. To great frustration by locals and tourists alike, Petros was hit by a car on 2 December 1985 and failed to recuperate.
He eventually died because a car hit him, and the locals were very sad. He was and still is the trademark of the Mykonos. After a few months, they got a new pelican, and they gave it the same name. Three new pelicans reside around the main town of Mykonos. One, donated by Hamburg Zoo, honorifically was given the name Petros.
A second, who was also cared for after injury, is named Nikolas. A third, named Irene and donated by Jackie Kenedy Onassis, has since unfortunately died. All three birds died, unfortunately, and one of them was famous because of the lawsuit. One day, one of the pelicans who had the same name Petros flew away to the next nearby island of Tinos and decided to stay a bit there. It was found by accident, and when the Mykoneans wanted to get it back home, they wouldn't let it go back home.
That led to a lawsuit between the two islands, and eventually, the Petros got back home.
After bringing it home, Mykonean throws a big party to celebrate returning of the pelican, which is not native to the Aegean Sea. After a couple of years, and a few sad stories about pelicans, they made a small flock of birds that are now native and pretty tamed. They even like being petted, and after a while, birds used to being petted.
When and if you are visiting the island of Mykonos there are always at least 3 pelicans which are great with visitors, and you will be amazed by the look of these great birds. They are always fed but still will want to take food from you. Luckily, they can not harm anyone, because their beak is rubber-like, for them to be easier to catch fish from the sea, but for now, they are still full of the food that people who are spending summer here are always feeding them.
Even though the Petros died long ago, people still like to see these magnificent creatures, still young and pretty, and they love to take pictures, from the famous people who usually spend summer on Mykonos, to the islanders who are pride that such a rare bird choose to stay on the island. Do not be afraid of him, because he can not hurt you but if you get rough it still can defend itself.
This is a wonder that lasts over almost four decades, and finally, people take care of them now.
Let your dream come true in one of the following islands
Andros
is the northernmost island of the group with a great naval tradition and no landscape like the postcards from the Cyclades: apart from the sandy beaches, there are rocky coastlines, mountain ranges alternating with fertile plains, lush vegetation and abundantly flowing streams.
One of the most enchanting yet less known islands of the Cyclades, Tinos is the religious center of the country thanks to the church of Panayia Meyalóhari ( the Blessed Virgin Mary ). Pilgrims from all over the country come here to fulfill their vows and to seek spiritual comfort.
One of the most famous destinations worldwide and a favorite holiday spot of the jet set, Mykonos, is extremely beautiful and well known for its bare hills, amazing sandy beaches, white country chapels, and Cycladic architecture.
Due to its proximity to Attica, Kea is an easily accessible beauty with a scenery variety: steep mountains, small fields, olive groves, vineyards, valleys, picturesque coves, and off-the-beaten-track beaches. On the island with the largest oak forest in the Cyclades, bird-watching is a real delight.
Cousteau looked for the lost city of Atlantis on Santorini. Crescent-shaped Santorini ( or Thíra ), the precious gem of the Aegean, is actually a group of islands consisting of Thíra, Thirassiá, Asproníssi, Palea, and Nea Kaméni in the southernmost part of the Cyclades.
Also called "Thermiá" on account of its thermal springs, Kythnos is very close to Attica; still, it is one of the less visited islands of the Cyclades.
Greek Mythology has it that Anafi, a paradise of pristine beauty and "exotic" beaches washed by crystal clear waters, had emerged from the bottom of the Aegean sea to give shelter to the Argonauts.
Ios.
The locals call their island "Nios" but its formal name comes from "ion", the Greek name for the flower violet. It is said to have been the birthplace of Homer's mother and the place of his tomb.
Remaining untouched by the growth of the tourist industry, Folegandros ( or Polykandros ) offers complete relaxation in a typical Cycladic landscape. Greek mythology refers to Folégandros as a son of Minos and head of Minoans as they were leaving Crete. They were looking for a refugee camp because the Cretans were evicted from their homeland at the time.
Now, the Island has about 750 people who live there, and they are not too glad when tourists want to visit, they keep to themselves and only a few of them are in the tourist business, but those who do come here are naturists, and that is maybe the only reason why it this place known at all.